ASM IBMR is the first B school in India to collaborate with the prestigious Harvard Business School Online (HBS Online)
Wherever you are in your career, HBS Online offers a unique and highly engaging way to learn vital business concepts. HBS Online delivers rigorous and immersive courses that enable professionals at every level to advance their careers, positively impact their organizations, and appreciate business in powerful, new ways. Learn more at online.hbs.edu
Acquiring multi-faceted competencies is constantly required by entrepreneurs and professionals to deal with complex people and complex situations. These courses are uniquely curetted for professionals to upgrade their capabilities in various fields and to leapfrog their competitors. Each course is taught in-person by ASM's expert academicians who are industry-experienced and at par with your pragmatic work-related issues. With stipulated contact hours every Saturday, they guide you with the relevant practical knowledge. Additionally, you have an excellent knowledge support from a wide range of existing international community & ace faculties, available online. This platform also connects you with a network of peers from varied professions which offer an opportunity for free-flowing discussions and a global exposure. These inter-blended courses allow you to continue your employment while gaining the right knowledge for tackling the professional hurdles in your career.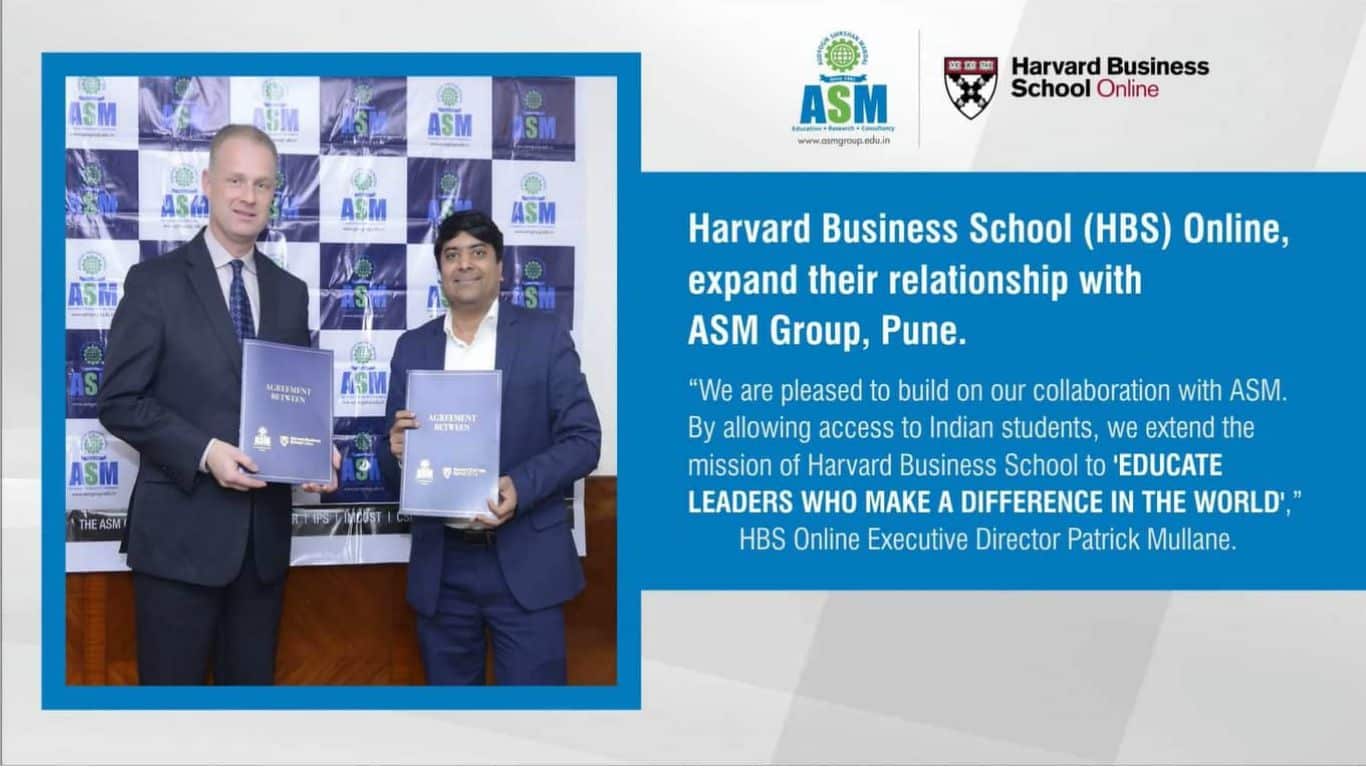 "Harvard Business School (HBS) Online & Audyogik Shikshan Mandal (ASM), today expanded their current relationship covering only the business fundamentals to include nearly all courses offered on its' online asynchronous platform. ASM is the only b-school in India that will offer a curriculum integrated with HBS Online courses. All HBS online courses are developed by leading Harvard Business School faculty and offer participants the opportunity to engage with a global cohort, enhancing their exposure and business acumen development." Dr. Sandeep Pachpande, Chairman of the ASM Group representing ASM at the formal contract signing.
"It's an honor to build on the relationship with Harvard Business School, globally recognized as the leader in business education. We were the first B-School in India to offer CORe – their business fundamentals program and we are happy to now offer more of the impactful HBS Online programs,".
In his comments after signing the MoU, Ross Pearo, Sr. Director, Strategic Alliances & Initiatives, HBS Online.
"The core values of ASM are aligned to that of HBS and we have seen significant traction in the collaboration since the limited one was signed in 2016. The feedback we have received from students in India who have gone through the courses has been extremely positive."
ASM Inputs :-
Classroom lectures delivered by ASM's finest faculty.
5-hour classroom interactive sessions every Saturday.
Real-world applications with thorough case studies.
Application of concepts to the Indian market.
Round-the-clock availability of faculty over email.
Help in comprehension of concepts studied during the week.
Weekly assignments.
HBS Online Inputs :-
Maximum "3 minute" lectures followed by curated activities.
Content and knowledge support by Harvard's finest faculty.
Global cohort to enhance cross functional industry interactions.
Interactive lessons for intellectual stimulation
CORe
The online CORe program will prepare you to contribute to business discussions
Duration : 17 weeks (8-10 hours per week)
Last Date : March 31, 2020
Certificates : Audyogik Shikshan Mandal (ASM) and Harvard Business School Online (HBS Online)
Business analytics
Develop the Data Mindset and Analytical Skills to Interpret and Communicate Data
Duration : 8 weeks
Last Date : May 31, 2020
Certificates : Audyogik Shikshan Mandal (ASM) and Harvard Business School Online (HBS Online)
Negotiation Mastery
Secure Maximum Value for Your Organisation through a Mastery of Negotiation Techniques
Duration : 8 weeks
Last Date : May 23, 2020
Certificates :  Audyogik Shikshan Mandal (ASM) and Harvard Business School Online (HBS Online)
Economics for Managers
Gain the Knowledge and Skills Needed to Craft Successful Business Strategy
Duration : 8 weeks
Last Date : June 21, 2020
Certificates : Audyogik Shikshan Mandal (ASM) and Harvard Business School Online (HBS Online)
Financial Accounting
Discover What is Behind the Numbers in Financial Statements
Duration : 8 weeks
Last Date : May 10, 2020
Certificates : Audyogik Shikshan Mandal (ASM) and Harvard Business School Online (HBS Online)
Management Essentials
Master the Tools and Tactics You Need to Get Things Done and move
Duration : 8 weeks
Last Date : May 23, 2020
Certificates :  Audyogik Shikshan Mandal (ASM) and Harvard Business School Online (HBS Online)
Leading with Finance
Develop a Toolkit for Making Smart Financial Decisions and the confidence
Duration : 6 weeks
Last Date : June 7, 2020
Certificates : Audyogik Shikshan Mandal (ASM) and Harvard Business School Online (HBS Online)
Leadership Principles
Develop the Leadership Skills to Advance Your Career, Team, and Organisation
Duration : 6 weeks (2 wks Prework and 4 wks Course Content)
Last Date : June 14, 2020
Certificates : Audyogik Shikshan Mandal (ASM) and Harvard Business School Online (HBS Online)
Disruptive Strategy
Harness the Power of Disruptive Innovation to Craft Winning Strategies
Duration : 6 weeks
Last Date : June 14, 2020
Certificates :  Audyogik Shikshan Mandal (ASM) and Harvard Business School Online (HBS Online)
Entrepreneurship Essentials
Master a Proven Framework for Building and Financing New Ventures
Duration : 4 weeks
Last Date : June 21, 2020
Certificates : Audyogik Shikshan Mandal (ASM) and Harvard Business School Online (HBS Online)
Global Business
Turn the Uncertainty of Today's Global Economy into an Opportunity
Duration : 4 weeks
Last Date : June 28, 2020
Certificates : Audyogik Shikshan Mandal (ASM) and Harvard Business School Online (HBS Online)
Sustainable Business Strategy
Gain the Tools and Techniques to Become a Purpose-Driven Business Leader
Duration : 3 weeks
Last Date : April 26, 2020
Certificates :  Audyogik Shikshan Mandal (ASM) and Harvard Business School Online (HBS Online)